Involving professionals, cost savings, time savings, lowering of tax rates are the main benefits of outsourcing, but not only. Handover of the part of the company functions to a contractor has become especially popular in recent years.
In this article, we are going to tell you about nearshore, offshore and onshore development; what type to choose; nearshore outsourcing benefits; offshore companies, and how to create quality software with a contractor.

What is the main difference between these types of outsourcing?
Geographic distance from a customer to a contractor is the main difference between offshore, nearshore, and onshore outsourcing types.
Imagine that your company is located in Germany. When you hire a software development team from your country, it is the onshore model. If your "German" company cooperates with a team from Poland - that is, from a neighbouring country, it is the nearshore type of cooperation. But if you think about hiring people from, for example, India, it is called offshoring because the contractor team is at a distance of several time zones from the customer.
Of course, every model has its advantages and disadvantages.
Onshore outsourcing
The Onshore model is to hire a team from your country. There is only a one-time zone, one language, basically the same mentality and cultural attitudes - all these things greatly simplify the work.
You can calmly plan your time and keep in touch with the team. Even if you are in different parts of the country, it is still easier to make contact with the teammates in your country than with developers in another hemisphere of the globe.
This model is perfectly suitable for businesses that prefer geographical convenience and chose the time of their convenience. However, this type of cooperation will be expensive – you will have to pay approximately 100 US dollars per hour, or even more.
If your company currently needs to optimize the costs, this option is unlikely to be right for you.
What is nearshore outsourcing?
It is another model of outsourcing. It is not very famous, but no less popular in the world than others. The model involves hiring a team from neighbouring countries situated in similar time zones.
Furthermore, it is also convenient in terms of communication. Undoubtedly, you will need to adapt to the internationality of this work, that is, a different language, a new culture, and some peculiarities of the team. However, it is more convenient than hiring people from another continent: you likely know a lot about the economic, political, and cultural components of any country that is close to yours.
Compared to the onshore, the nearshore outsourcing benefit is its lower price: the cost of an hourly rate fluctuates around 50 US dollars.
This model of outsourcing truly has many advantages. Proximity, cost reduction, control of the situation allow you securely and reasonably develop software or mobile applications.
Nearshore outsourcing can become convenient for companies thinking about long-term cooperation.
Offshore outsourcing
Offshoring involves hiring employees from completely different time zones. You can hire a team even from other continents. For example, China, India, Poland, or Ukraine are the leading destinations for the US market for quality outsourcing software development.
Offshoring provides the possibility to reduce costs in various areas. First of all, we are talking about paying for human resources focused on the project. Offshoring also involves lowering taxes and expenses on keeping the team in another country.
The average hourly pay for offshore software development will constitute approximately 30 US dollars, so this type has the lowest cost.
At the same time, be prepared to meet face to face the other mentality, linguistic and cultural backgrounds. These points can slightly complicate the work of the house team and the contractor.
Although, you can easily overcome these challenges. If you carefully prepare for cooperation and adapt online meetings to the schedules of both companies, you will be able to create a smooth and trouble-free working process.
TL;DR
Evidently, outsourcing as a model of collaboration can bring a lot of benefits to your company. We are talking about saving money, expenses on the team, and taxes. Moreover, you reserve the intellectual property right to the product and communication with the customer.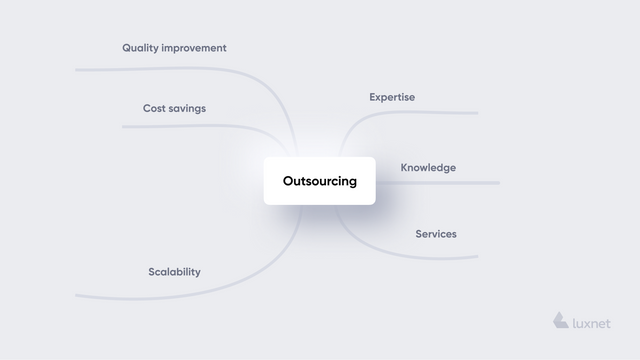 At the same time, a business that hires a contractor abroad can become acquainted with a foreign marketplace, which will help to expand the company and bring it to a new trading platform in the longer term.
But before you choose an outsourcing model, you should consider the pros and cons of each one. Moreover, it is necessary to assess the financial capabilities and technical needs of the company.