We will explain what IT outsourcing services are, how to find a contractor for software development, how the help of such companies differs from the work of a house team and what role time zones play.
From year to year, outsourcing is becoming increasingly popular among customers of various projects. It is convenient and fast, helps to optimize costs and explore a new market, and with the help of external experts, complete the project quickly and efficiently.
India, China, Poland, the Philippines, Romania and Ukraine are on the list of leaders in the field of IT outsourcing services. You can find experts who will become a good (but temporary) counterpart to your current team in each of these countries.
But before you start searching for a team, we suggest you read the main facts about IT outsourcing. What is IT outsourcing in general? Who is this type of project suitable? How much does outsourcing cost in different countries of the world? We give the answers below.
What is IT outsourcing?
Outsourcing is a method of hiring a contractor that will perform exact additional tasks for your business. This distribution is called time and cost-saving tactics. At this time, your company can focus on the most significant functions of a particular project, while the outsourcing suppliers will deal with minor tasks and support functions.

Why do you need IT outsourcing services?
Firstly, you have a team of good experts, but they cannot cope with a particular task because specific specialists are missing. Secondly, you have calculated the costs and found out that creating a project in your country will be too expensive. Another reason is that one of your business processes needs improvement, and you can do that only with the help of external teams.
The most common services in IT outsourcing are:
web development of projects;
software development;
hosting;
database development and management;
website maintenance and management;
application maintenance and management;
technical support of the project;
infrastructure.
Disadvantages of outsourcing
Time zones. You can be in different time zones, and this factor can complicate communication with another team.
Culture. Be prepared to get acquainted with a new culture and mentality. Perhaps you want to schedule a call for Friday, but in the country you cooperate with, that day is a public holiday. You should better discuss it beforehand with your contractor.
Legislation. Undoubtedly, you will save money, but firstly you should read the laws of the country in which you have found the outsourcing team.
At the same time, outsourcing offers many benefits, which actually cover the inconveniences that arise due to different time zones and difficulties in communication.
Main benefits of outsourcing
Outsourcing:
significantly simplifies workflows;
frees up time for the business to better focus on the primary needs of the company;
allows to reduce costs;
offers the possibility to get an expert or experts right away, instead of training one of your employees;
provides an opportunity to enter into agreements for short-term projects, so you do not need to hire an entire team into your company.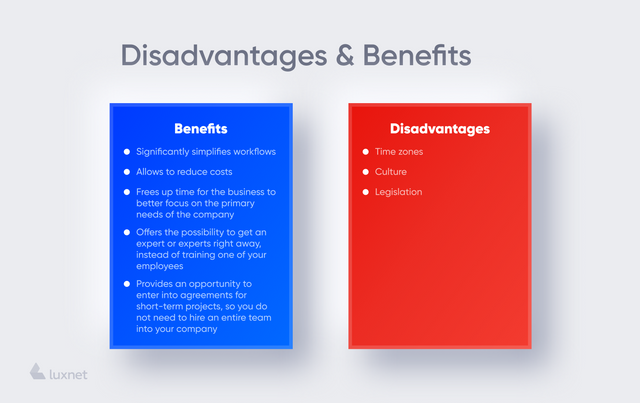 What are the types of outsourcing?
Offshore outsourcing. This type involves hiring employees from absolutely different time zones. You can hire a team even from other continents. For example, India, China, Poland or Ukraine are popular destinations for the US market, and they will provide quality outsourcing software development.
Nearshore outsourcing. This cooperation model is not very famous, but no less helpful. It involves hiring a team from neighbouring countries situated in similar or the same time zones. In comparison with the offshore model, you will not have to learn a foreign language or adapt to another mentality. However, this type can be more expensive.
Onshore outsourcing. This type involves hiring a team from your country. Therefore, you do not have to adapt to another time zone, language, etc. You can stay in touch all the time. This model is suitable for companies that value geographical advantages and chose the time of their convenience. However, among all three types of work, onshore will cost the most.
Multisourcing. This model allows you to combine orders for business services from several different suppliers. It means that one project (or more) may involve experts from various companies, countries or continents.
What are the types of payment for outsourcing?
In general, outsourcing companies offer two methods of working with a contractor:
time and materials: a contract based on the time spent working on the project;
fixed price: this contract stipulates a specific amount of money for a particular job performed.
What type of payment is it better to choose for your business?
Everything depends on the amount of time, possibilities and finances you allocate for the current project. If the development is long, complex, but profitable for the company, the best option would be an agreement such as time and materials. If you have a calculated budget and a clear algorithm for tasks for the contractor, the best choice in terms of savings will be a fixed price contract.
Another type of payment is Cost Plus. Under this payment model, you pay a monthly salary to developers and a fixed payment to your contractor. In general, it includes salaries for employees, costs on office infrastructure, taxes, supporting staff, etc.
How much does IT outsourcing cost?
The prices fluctuate depending on the region you have chosen and the complexity or duration of your project. Anyway, the following prices for outsourcing in 2021 were:
1. Asia (India, China, Indonesia, the Philippines, etc.): $18-$40
2. Africa (Marokko, Kenia, Egypt, etc.): $18-$40 
3. Countries of Latin America (Argentina, Brazil, Columbia, etc.): $30-$50
4. Eastern Europe (Ukraine, Romania, Bulgaria, Poland, Hungary, etc.): $25-$50
What country to choose for IT outsourcing in Eastern Europe?
The best countries for IT outsourcing in Eastern Europe are:
Ukraine
Romania
Poland
Bulgaria
Hungary
The Czech Republic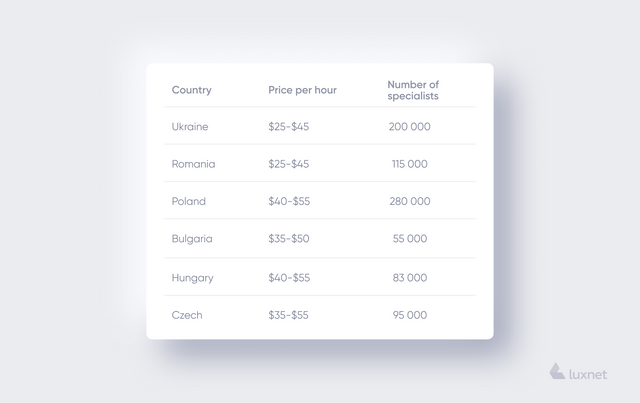 Examples of companies that outsource
1. Google. Despite the massive scale of the company, it still works with contractors. For years, the organization has been outsourcing particular non-core functions, such as administrative work and IT constituent.
2. WhatsApp. From the very beginning, the company has been using outsourcing services. The local management is well aware that in order to "grow" optimally and organically all over the world, you need to reduce costs. That is why they get services from foreign contractors for a lower price than they would have to pay in the United States.
3. Skype. At some point, the company management realized that one of the essential tasks is to find talents that would deal with exact business processes for a relatively low price. To do this, Skype chose Estonia as a source of experts and hired several developers to work on the product.
Some additional facts about IT outsourcing
Larger companies are 66% more likely to choose outsourcing than small businesses.
The main reason for outsourcing is cost reduction (70%). 
By 2025, the global IT outsourcing market will be worth $367,6 billion.
Three steps to hiring an outsourcing team
Now we can proceed to the next point about how to find an outsourcing team. We have prepared the three-step procedure that will help you choose a good contractor for software development.
Analyze. First, take a fresh look at the needs of your business. Ask yourself a series of questions to help you choose the type of outsourcing and payment for the remote team. What is my project about? Who is it for? How many experts do I need? How much money can I allocate for this project? What business functions should the team perform? What are the deadlines for submitting the project? According to the received answers, start looking for an IT outsourcing team.
Save on finances, but not on wisdom. Of course, you should take into account finances when choosing a team. Cost reduction is one of the reasons why businesses choose IT outsourcing. However, pay attention to other indicators - what projects the team demonstrates, how reliable it is in the market, how many responses it has received during its work. It can be trivial but consider the attitude of a company representative during correspondence or video communication. If you have any doubts, it's better to find another team.
Document. In a convenient way for you and the contractor, document all stages of your outsourcing collaboration: from A to Z, from team search to project release and update. First, it helps to keep track of progress. Secondly, it structures all the information and helps to avoid conflicts or shortcomings. You should also choose a convenient type of business communication: correspondence, a short description of the video meeting, etc.
Choose Luxnet for outsourcing projects
Luxnet has over ten years of experience and 300+ successful projects. We guarantee quality, honesty and good execution of your projects. If you have any questions or would like to consult, feel free to contact us!