Luxnet has developed an application for the media group StarLightMedia based on the Flutter cross-platform solution. As a result, the platform for comfortable video viewing on various gadgets was created in four months.
How does It Work?
Teleportal is a platform for the video content of the media group StarLightMedia. It allows you to view products from the company-owned TV channels - STB, Novyi Channel (Novy TV), ICTV, etc. For the most part, these are entertainment products or serials.
Our task was to develop the application that would be visually appealing, convenient and as easy to use as possible.

When creating the application, we used the Flutter cross-platform solution. This is an open-source framework, developed by Google, for creating the apps for Android and iOS platforms, as well as on the Web. The solution allows creating a single application for different platforms at a time, in other words - a simple integration with Android and iOS. This utility can really reduce the development time of complex interfaces by several times.
In practice, it has several important advantages.
Firstly, it significantly saves the customer's time to create a product; actually, one programmer, who writes a single code for two platforms, can manage the whole process. Secondly, this decision essentially saves the client's ... money. There is no need to create two separate applications that look similar in different operating systems. There will be one application that can run successfully on both Android and iOS. High performance is another advantage of Flutter technology over other competitors. Furthermore, the application will work properly and the customer will spend fewer resources to support it.
It looks like this: the customer pays for one app that will run on the gadgets with different operating systems. Therefore, when the customer wants to improve the product, it will pay for the support of only one application. In other words, all improvements or upgrades will require the same technical solutions for different operating systems. To sum up, Flutter is simple and convenient; what is more, it is fast.
Why do You Need It?
Do you want to watch your favourite TV serial or refresh your memory about the end of the previous episode in the serial? Are you eager to cook dinner while watching the cookery programme? It is possible with the help of Teleportal. After viewing, the "Continue Watching" list is created from the list of projects that the user can watch later. Teleportal offers a lot of functions, even for very demanding viewers. By turning on your smartphone, you receive your own library of shows you like.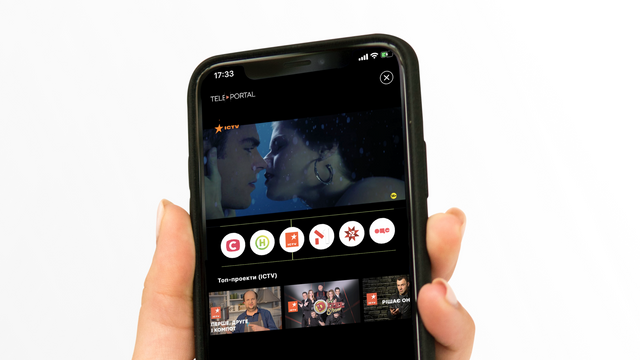 Luxnet Company has developed for StarLightMedia the app for Android and iOS that gives the users a wide range of possibilities for comfortable viewing of videos with or without a subscription.

It is not a secret anymore that traditional television goes online. Here the users have more possibilities than on a regular TV screen. At the same time, there are also more challenges: the internet users are more demanding; they do not always want to browse and view content with advertisements and often want to watch another product immediately after the previous one. How is it possible to engage such viewers and keep them interested?
For example, Teleportal app has a number of possibilities for users that make watching videos comfortable, engaging and unobtrusive. In addition, the bilingual application allows viewing series or streams.
The owner of such an application also has considerable advantages. There is the additional feature to monetize the view. For example, in order to watch another episode of the serial, it is necessary to watch several advert videos. In case the users do not want to watch the program, they can subscribe and watch the video immediately and without interruption.
All of these things help to engage users in the product and make them direct participants of the TV process.
One more option here is to output and watch videos on a larger screen, for instance, the TV screen. In this case, the smartphone turns into a type of "remote controller" for convenient family viewing time.
One of the challenges of product development is the limited time for creation. Our team managed to cope with this task in approximately 4 months.
For Who is It?
The Internet offers a lot of opportunities, including the possibility to make the user interested not only with the variety of content but also with many convenient solutions. The television is going online slowly but confidently, trying to engage every user who leaves offline and goes into the World Wide Web.
Teleportal application is a home video library to fit every taste.

With this in mind, this solution is suitable for media groups that go online and want to offer their viewers comfort in use, a variety of paid and free content and convenient functionality. The application developed with the Flutter cross-platform solution gives the possibility to save the resources on development and support and, at the same time, creates a quality product with high performance and good results. This cross-platform solution is not an experiment to save money, but rather a successful investment in the future of convenience and multifunctionality of online business.