In recent years, insourcing vs outsourcing is an issue that has been worrying all business owners more and more often.
In this article, we will describe the difference between insourcing and outsourcing and tell you which type is better to choose: full-time employees, or remote and partial employment.
What is insourcing?
Insourcing, also known as in-house, is a technique that regulates the hiring of employees on behalf of the company. It also involves the assignment of a number of tasks and functions to the employee. Insourcing is the creation of own autonomous structural units that provide specialized services to both departments of the enterprise and external contractors.
In the technical sense, it is a long-term cooperation of companies or experts. Insourcing is introduced during the interpretation of the competences of workers and production. The reason is to significantly reduce the number of human resources, transport or, for example, taxes.
The main advantages of insourcing are as follows:
• Quality control. You can always meet a person offline or online. You have the opportunity to talk, discuss, add specific details. Moreover, this person cooperates with other team members, so the work is coherent, extensive and high quality.
• Opportunity to travel and expand your business into new markets.
• Full ownership of intellectual property. The proprietary right is entirely yours.
What is outsourcing?
Technically, outsourcing is a method of hiring a contractor who will perform certain tasks on his or her side. This distribution is designated as time and cost-saving tactics. During this time, the company can focus exclusively on the most important functions of a particular project, while supporting functions and minor tasks can be handed over to outsourcing suppliers.
Outsourcing offers two methods of working with a contractor:
time and materials: it is a contract based on the time spent working on the project.
fixed price: it is a contract that stipulates a specific amount of money for a particular job performed.
Which type to choose? It entirely depends on how much time, opportunities and money you allocate to the project. If the development is long and complicated but profitable for the company, the best option will be an agreement such as time and materials. If you have a calculated budget and exact algorithmization of tasks for the performer, the best (and more economical) option will be a fixed price contract.
The main advantages of outsourcing are as follows:
Flexibility. The main team performs its significant tasks. At that time, the company can offer the customer more service by hiring a contractor.
Resources. You don't have to hire an expert in a rare field. You can work with him/her on a project basis, such as outsourcing. Then, you will always be able to involve a specialist in projects, but you will not spend money on wages when the product does not require it.
Savings. Your outsourcing partner, who works in another country, can often offer a favourable price. That is not because the work will be of lower quality. The matter is the overall standard of living, e.i., their lifestyle, exchange rate, etc., might differ.
What is the principal difference between insourcing and outsourcing?
Resources management, time management and project control are the items that have certain features that are different in outsourcing and outsourcing. If you pay attention to the pros and cons at the right time, you can choose the type of work that can perfectly suit your company.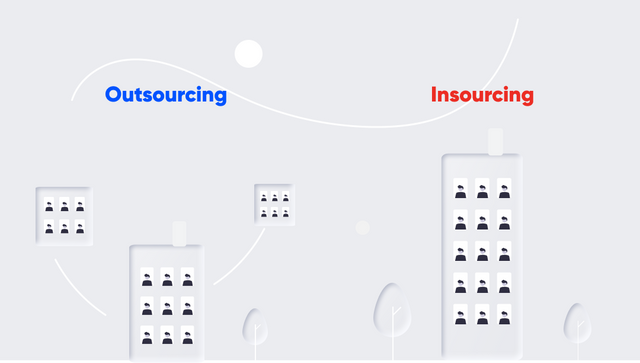 The company that uses the insourcing can permanently monitor and control the development process. That gives the possibility to ensure high performance and achieve good results quickly and efficiently.
Since you keep track of key processes and stay in touch with the team, you can immediately respond to challenges: test the product, implement changes, correct deficiencies.
If your company uses outsourcing, be prepared to stay far apart from the hired staff. That can be inconvenient when monitoring performance or implementing changes.
At the same time, outsourcing allows you to discover a new market. There is a high probability that your contractors will work in another area or even a country. By meeting them and learning their approaches to work, you can become familiar with a new marketplace for your business.
Another difference is the implementation of innovations into work. Insourcing enables the dynamic promotion of innovation in services and products, along with a well-timed update of your brand in the market. Due to remoteness, outsourcing does not allow you to perform these actions in a proper time.
How to decide which type of work do you need?
In-house development and outsourcing have both advantages and disadvantages. Apparently, you need to choose one approach and try it at work.
We have prepared several questions that can help you choose the type that will be useful and effective; besides, allow you to combine top talents and skill sets required for employees.
1.How long do you need an expert/team?
If you are considering a long-term collaboration, you better choose to insource. Outsourcing is more suitable for projects with exact deadlines which require resources that are not available in your team but are unnecessary for full time.
2. How much does it cost?
Insourcing and outsourcing significantly reduce the price of labour. If you organize your work clearly, you can achieve a reasonable cost-saving. However, the first thing a financier of your company should calculate is such expenses as taxes, pension contribution, office expenses, etc. Then, based on calculations and fee proposals, you can search for an expert or team.
In financial terms, insourcing is better if you need a team for a long period. When it comes to a short-term project, it is better to find outsourcing specialists.
3. How urgent is product creation?
Insourcing, or traditional hiring, takes a lot of time. You need not only find a team, as in outsourcing. You must create it almost from scratch. That requires interviews, resumes, probationary periods (perhaps), and so on. In addition, you will have to control the team regularly and monitor the results of development at each stage.
However, outsourcing is an opportunity to quickly involve a whole team that can demonstrate ready-made products to present their work. Outsourcing enables the hiring company to estimate the work in total without distracting on diligent step-by-step checkings.
4. What skills are necessary?
Again, if the market requires from you an expert in a particular field for the long run, you better turn to insource. That is an opportunity to hire a specialist for a long time who will permanently work in a team.
When it comes to additional skills, which will not be useful to you for most projects, it is better to outsource. Anyways, that will allow you to get a high-quality product. Furthermore, you can save payment costs for an expert or team that the company does not need over a long period.
5. What type of interaction is the prerogative?
If you are used to working with people face to face and meeting with the team every Monday to discuss progress, insourcing will be more suitable for you. It is a possibility to always meet with an expert or team offline.
At the same time, outsourcing can require online communication. That can also be difficult because communication with people from other countries might become complicated because of different time zones, so meetings will sometimes have to be held at night or in the morning.
TL;DR
Both types of cooperation have their pros and cons. Therefore it is necessary to choose. Before hiring a person or team, it is better to evaluate according to the parameters we have described in the previous block. In house development as well as outsourcing require from the company a comprehensive approach for finding a team and proper acquaintance.
Insourcing and outsourcing are becoming especially relevant during the coronavirus pandemic when remote work and the ability to transfer a part of tasks online are the lifelines for small and medium-sized businesses.