In this article, we will compare nearshore vs offshore; tell about the role of time zones in remote development and why it is worth hiring developers from another country.
Clever cost saving is very important for every business. Let's imagine you have a flower shop. Undoubtedly, you would like to purchase fresh flowers of different types and colours. There is a wholesale store not far from your shop, but plants are a quarter more expensive there. A farm outside the city also sells flowers. The price is a little lower, and they provide a discount for bulk purchases.
Where are you going to make your purchase? Most likely, on the farm. Moreover, you have heard positive reviews about them.
That is how outsourcing works. You have a cheaper choice, a lower cost, but savings do not affect the quality in any way.
What type of outsourcing to choose?
In this article, we will compare two types of outsourcing: nearshore vs offshore.
Nearshore outsourcing
Nearshore software development involves hiring a team from countries with similar time zones. That significantly simplifies the task for you because there will be no significant difference in time. This type of cooperation has not become so popular yet; however, it is as good and high quality as the other ones.
Geographical proximity is just one of the advantages of nearshore development. You can call the team on time or even come to the place. However, we should not forget about other benefits of this type, such as saving costs, timely and due performance of tasks. When using nearshore, you know the performers whose skills and qualities meet your requirements.
The average hourly rate for nearshore will range approximately 50 USD. We wrote about the prices and other benefits of this outsourcing in detail here.
Offshore outsourcing
If nearshore implies the geographical proximity of the development team on a contractual basis, offshore development is about long distances between companies. Yes, if you choose this type, you will hire a company that is miles away from you - on another continent.
Offshore development will cost approximately 30 USD per hour. Therefore, this type can be considered cheaper than nearshore outsourcing. At the same time, remote cooperation promises many advantages: significant cost reductions, high-quality development, exploring of a new market - you can become familiar with a new place during the period of cooperation. Probably, it may come in handy in the future ;)
Nearshore vs offshore
Everything is quite simple here. You need to take into account the main factors that will affect your work and evaluate the risks and costs.
To make it easier for you to decide, we have created a table: Nearshore vs offshore: what type to choose?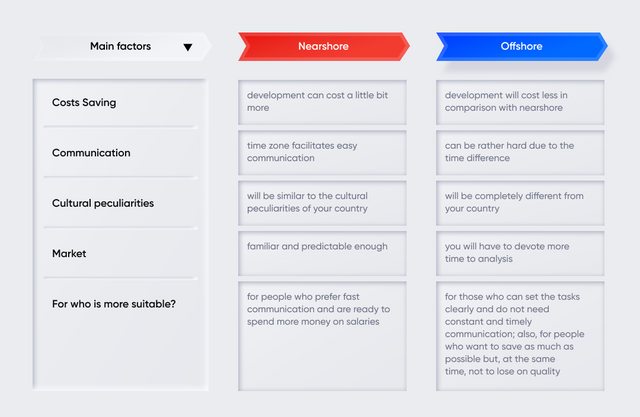 Top countries for IT outsourcing
If you are thinking about hiring a remote development team in outsourcing, we advise you to take into consideration Eastern Europe. You can start searching for your IT contractor in Ukraine, Poland, or Bulgaria.
Ukraine
In recent years, Ukraine has successfully gained the reputation of a good contractor. According to Daxx, payment for work can range from 26 USD to almost 45 USD per hour. However, Ukrainian developers will offer you quality, efficiency, and the appropriate approach to innovative or traditional projects at this price.
You should take note of big cities where the IT market is growing quite fast. That is Kyiv, the capital of Ukraine, and Lviv, which is located in western Ukraine.
If you are interested in the Ukrainian outsourcing market, you can contact us. The Luxnet company offers technical solutions for small and medium-sized businesses.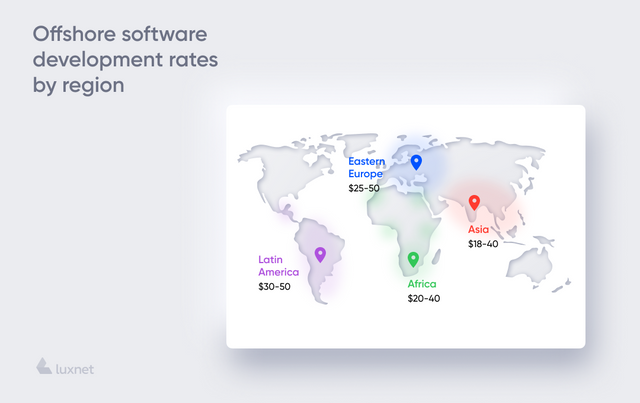 Poland
Poland is another country that offers its contracting services. Most great developers live in Warsaw and Krakow. But development here will cost more: from 40 USD to 56 USD per hour. However, the quality will meet the requirements of the project you have in mind.
Bulgaria
Bulgaria is one of the underrated countries in Eastern Europe that offers quality contractor services. You will have to pay from 34 USD to more than 50 USD for an hour of work to Bulgarian developers. The IT centre of this country is in the capital city of Sofia. In total, the programming market in Bulgaria constitutes 40 thousand specialists.
Asia and the Middle East
You can also pay attention to Asia and the Middle East. After all, the countries from this area have become pioneers in IT outsourcing. Development here has even a lower cost than in Europe. Programmers will charge a price from 10 USD to 25 USD per hour.
However, you should be cautious in cooperation with Asia and the Middle East. We mean the time difference that is quite bigger; another drawback is the lack of stability in politics and the economic sphere.
When you have decided to use the services of these countries, we advise you to pay attention to India, China, and Malaysia.
What is outsourcing?
Formally, outsourcing is the transfer of a part of a company's processes to third-party contractors on a subcontract basis. It is the type of agreement under which people from an external company, who are usually the best experts in this type of work, take over the project.
In simple language, outsourcing is hiring a contractor that can perform a particular work better than your team (or just perform a specific task, in case you do not have the team for it).
In practice, it works like this: you have got a task that you can't do. You hire a development team that takes over the work. You don't have to look for a contractor in your city or even your country. You can apply to developers from other countries for help.
Advantage of outsourcing
Outsourcing offers a lot of benefits to companies that are searching for a contractor.
1. It is cheaper. As a rule, remote development costs less. You can hire developers from another country. The taxes for the performed work may be lower. And, perhaps, the price for development is not so high in that country.
2. It is more economical. You should also consider another advantage. Let's imagine you need a technical solution, but you do not have a team for it. If you plan to use the insourcing method, that is, to employ people to the company, you will have to pay a salary, find a room in the office, provide insurance or sick leave. All these payments result in additional expenditures.
Though, if you hire a development company, you immediately determine the price and expenses. Then, you don't have to worry about anything: programmers do their job, you control it and approve of the tasks performed. There are no office expenses, and so on.
3. It is faster. It often happens that the deadline to implement the idea is yesterday. Then, offshore software development or nearshore outsourcing will be a great advantage.
You quickly explain the task to the expert team, and they begin to work immediately. There is no need to wait until your developer, who builds mobile applications for iOS, learns how to create cross-platform applications;)
Disadvantages of outsourcing
1. Time zone. It is often the case that the time zones of your company and the development company are different. For example, you are in the USA, and developers are in Ukraine. You will have to arrange calls and business correspondence in such a way that you do not have to pick up the phone at night. And so that your contractor does not have to make urgent changes at the crack of dawn.
In this situation, you can apply asynchronous communication. It is a type of cooperation that provides a time frame for giving a response. Then, you do not have to wait long for a reply from a colleague because you know that the message will come at the appointed time.
You can read more about asynchronous communication here.

2. Cultural and language peculiarities. You will hear a foreign language (so English will be with an accent), Christmas is usually on different dates, and there can be even a completely different religion. You will have to get used to (or accept) the fact that when you have a working day, the country of the contractor team may have a day off.
3. Unfamiliar market. Before hiring the developers, you need to analyze the country where they live and work in detail. That is necessary to create a project within the law and in accordance with existing traditions.
Despite having its disadvantages, outsourcing is becoming increasingly popular in the global development market. Remote teams are more often hired by large companies rather than by small businesses. The most popular reason to choose outsourcing is significant cost savings.
You can hire a team in different parts of the world, in any country starting from Eastern Europe to Asia. They will offer you their advantages and quality but still cheaper service.
TL;DR
Outsourcing provides a lot of benefits. You save money but do not save on quality or completion period. You do not have to form an in-house team quickly to undertake the project. You can hire outsourced developers to speed up the process and, as a result, get a quality product.
To sum up, it is worth saying that the question of nearshore vs offshore remains open to every business. The important thing is to analyze the situation thoroughly and choose the type that suits your company.