Every dream, strategy or need has visualization. Imagine that you have planned to buy a new phone. Obviously, you will want to have a look at the desired model. You will probably search the Internet or visit the store beforehand. Another case: you are unlikely to buy tomatoes on the market "blindly". Most likely, you will want to look at them with at least one eye, maybe touch the elastic surface of the red-ripe vegetable.

Cognitive mapping, mind map and map design process
Every dream, strategy or need has visualization. Imagine that you have planned to buy a new phone. Obviously, you will want to have a look at the desired model. You will probably search the Internet or visit the store beforehand. Another case: you are unlikely to buy tomatoes on the market "blindly". Most likely, you will want to look at them with at least one eye, maybe touch the elastic surface of the red-ripe vegetable.
Everything related to our life has visualization. Colours, shapes, words - all these things play a big role in routine, communication or commercial strategies.
In fact, if you want to develop a company, make the business more successful and even closer to the customer, it would be good to visualize the goals.
In this article, we will tell you about the mind map common core, cognitive planning, thinking design and mental maps, which will help you better understand the company's development strategy, hone management skills and understand your customer well.
Cognitive planning, mind maps, and the design mapping process are three really good methods for visual display, communication among employees, as well as knowledge accumulation and preservation. They help to turn complicated things into simpler ones: to present ideas, analyze patterns, improve relationships.
What is cognitive mapping?
Cognitive mapping is a system of making effective management decisions, searching for scenarios, as well as assessing the intercorrelation of various factors. Cognitive modelling is usually performed by a group of people. These can be executives, mid-level managers or experts in this field who are responsible for the development of the company.
Cognitive planning includes:
structuring methodology: the model is presented in the form of a cognitive map;
methods of situation analysis: there are many of them, and you should choose the one that is suitable for the situation: analysis, interview, structuring, perspectivation, etc.
Cognitive mapping is often used by managers to determine and give instructions, construct distances between objects or cities, and draw figures. Understanding the nature of cognitive mapping is important today and has led to three theories:
theory of supply;
image theory;
dual-coding theory.
What is a cognitive map?
A cognitive map is a multimodal presentation of information architecture, hierarchy, hypertext and conceptual connections of a product.
A cognitive map is a visualization of a mental model of a person or group of people. For the most part, this image does not have rules that are necessary to follow. Such planning has a free form and includes various visualization methods, such as bulleted lists, flowcharts, schematic concepts, and so on.
Very often cognitive maps have low accuracy. Because of a schematic image, they are made on sheets of paper with pencils or pens; however, they can also be created on a computer. In any format, it is great when all team members are working on the map. Actually, in this case, it is necessary to apply design thinking.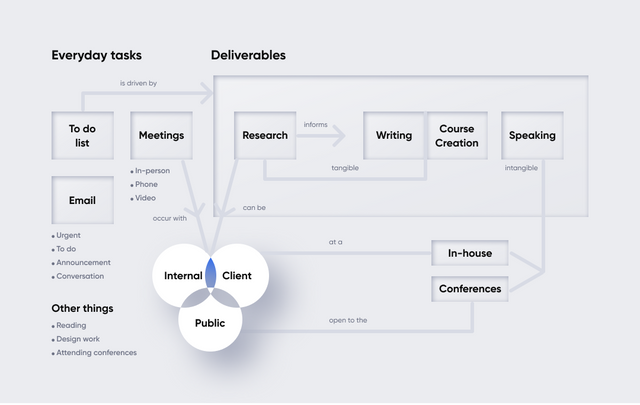 The cognitive map really helps to notice the patterns of work and memorize important information, understand and study the path integration.
The cognitive map also develops spatial memory: it helps «sharpen» the so-called eye of the mind and reproduce what is shown visually.
Imagine that in front of you is a regular topographic map, which shows the route of the tour downtown the city. From point A to point B.
You need to go this route. But the map is executed in the same colours and symbols. The cognitive map is an arbitrary image, aimed primarily at spatial memory. So there you can mark important landmarks, paint each street in a different colour, attach photos that will increase the recognizability and help to recognize the surroundings on the spot, even if you have to navigate without a map.
The main concepts of the cognitive map are:
Marking of all the most important information and new ideas: the basis of the cognitive map is important data of the project and new ideas, then they can be marked visually (highlight colours, fonts, prescribe relationships). The topic of the map is the most important.
Defining the relationship: after the first stage, the next step is the arbitrary placement of fragments and drawing lines between them. Everything for showing the relationship and creating a hierarchy of topics.
Visualization and memorization through images and sounds: visual images and sounds are important elements of the cognitive map. After all, they allow you to memorize all the fragments and the hierarchy between them better than in test mode.
Design thinking is a method that provides a problem-based approach to solving problems that are essential for understanding human needs, rethinking the difficulties the business faces. In a technical sense, design thinking is a process of adjusting all the factors to make the user feel comfortable and come back to the service again and again.
What is a mind map?
The mind map is a kind of tree that reflects the central idea and its subtopics. Formally, this is a simplified form of the cognitive map that has a clearly defined hierarchy and simple structure. It covers one central theme, i.e., all nodes shown on the map will have one parent node. In practice it looks like as in our example (mental maps examples):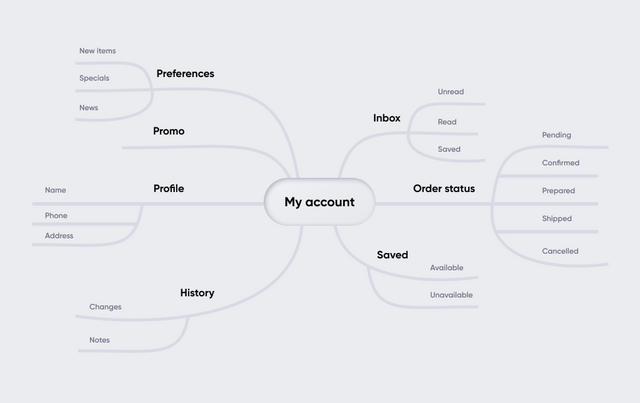 Thus, each subtopic on the mind map leads to the root system - the main topic being studied. By the way, it literally does not matter what types of relationships are represented in such a map: all parts of the tree are the same.
This planning allows you to gather the information that is "linked" to a single topic and systematize it, put it on the "shelves", study carefully and thoroughly all aspects, that is to find problems, disadvantages, advantages and challenges. Mind maps are used in UX, for example, to map all the information that is included in the Q&A.
What is the concept map?
A concept map is a "powered" version of a mind map. Researchers focus on identifying the relationships among the topics to be analyzed when creating this map. You can build your concept map if you want to study the data about your company, as well as organizational operations in more detail or when it's necessary to identify existing problems. This map shows the cause-and-effect relationship very well.
Concept maps help to visualize complicated concepts that are interconnected in different ways. They can support different points of view and ways of dealing with the same problem and can be used to develop a holistic picture of all concepts and their interrelationships, such as data and organizational operations.
You should associate concepts with the action. Mapping emphasizes relationships by associating one idea with another and with verbs. This characteristic is useful in analyzing the problem (maps often reveal undiscovered causes and consequences). By visualizing the content as a web, it becomes easy to detect the "trace" of the relationships and thus identify systemic solutions. Maps can be created both individually and in a group (for example, if the goal is to create a common understanding of the internal process).
TL;DR
The maps we described above have different concepts and tasks; they don't have the same list of steps or combination of topics. But remember: visualization of a problem, concept, challenge, or idea is always a necessary step toward developing both the internal and external aspects of a company. It allows you to summarize all the factors, take a look at the whole picture and then assess further strategic directions of development. You can choose the map that is the best for your immediate goal; you can also use mapping to develop a company without apparent reason.
In general, the advantages of mapping are the following:
visualization of abstractions - ideas, challenges, strategies;
establishing relationships among different aspects from other areas;
synthesis of a complex ecosystem into a holistic picture;
integration of new ideas into the system.