In this article, we will tell you about content marketing for startups and the importance of social media for a young business; we will also focus on the ways of developing products online.

A startup is a young company that builds its business based on innovations, new technologies, and unique proposals on the market. It is a project that has not entered the market yet or has just started doing that. At this stage, it is limited in resources.
Every startup is a risky business that might flourish or decay in the future. Risks are visible every day and make the founders worry. In fact, it is reasonable: 90% of startups fail, 10% do not last a year.
Very often, such a business is called a "garage". At first, the founders work on it almost in the home environment - this is how the idea is born and then grows into an exact plan.
However, you should not think that everything is so tragic. The modern world is replete with instances of successful startups, which have turned from "a garage business" and "a project from scratch" into such giants as Google, Apple, Facebook. Once, all these companies were startups. But thanks to proper planning, good analytics and commitment to the business idea, they have managed to evolve young businesses into mature and expensive enterprises known all over the world.
If such a project is successful, it will have many advantages: the founders of a previously successful business have a 30% chance of success in the next project. But talent alone is not enough. Also, it is necessary to analyze the idea, its implementation and the risks that may arise during the launch of the first product.
Several factors play a key role in the development of a startup:
Qualitative analysis. Analyze everything that can affect your business in the present and future. Ask yourself the following questions: What is unique about the project? How is it helpful for the user? What pains can it solve? What is its value compared to competitors? How "full" is the niche you want to get in? Who is your target audience? Answers to these and other questions can save your business from failure. At the same time, these answers need to be clear and structured. In order to conduct an analysis, it is necessary to study the market, the basics of business, etc.
Team. Usually, a startup has one or more founders. Nevertheless, do not rely only on these "combat units". In any case, you need experts who will take responsibility for the tasks in which you are not an expert. Distribution of work among talented people, who have the knowledge and practical experience, is one of the significant points in business development.
Finance. Often, startups have a limited budget. But it's better to rely not only on the saved funds or money received from the main activity. Search for investments, grants or technical competitions. All this together will help increase the company's budget and augment opportunities.
Plan B. Yes, you can put your faith in your startup, pour a lot of money into it and find the team of your dreams. At the same time, remember to draw up a fallback strategy that will help "mitigate" potential falling. You can write a contingency business plan. It is a number of actions that you have to take in times of crisis. This plan includes financial reserves, spare jobs for the team, rapid optimization of work in unforeseen situations. We wrote more about it here.
Marketing. It is one of the essential features of a business. Your product can be unique and beneficial to the audience, but inappropriate product design will destroy all your efforts. You should also apply verbal and visual presentation and modern trends in combination with classical marketing. These techniques will help introduce your product to the market decently.
That is why we will focus on content marketing for startups in this article. After all, it is an important component of the success of your project.

What is content marketing (strategy)?
Content marketing is a technique of attention arresting to engage the target audience to the brand by disseminating relevant and valuable information about the company. Websites and social networks are the most common communication channels through which you can distribute content marketing. It is necessary to point out that content marketing is common not only among world-renowned companies. It is also popular in the development of small and medium-sized businesses.
Content marketing strategy is a plan to engage the audience through publications, support and systematic distribution of educational, entertaining, motivating and promotional content. It is about focus on well-chosen words. Formally, content marketing should turn a potential customer into a regular fan of the product.
However, it is not just about an appropriate description of a product or service. Company values, presentation of the team and entertaining components are also essential. These points allow users to know the business better. Therefore, they can realize if their values match and if they like the brand.
When you create content that is interesting to someone, primarily it portrays the company in a good light organically and natively. Consequently, the company will be treated better in this context. And if you create content that, firstly, gives people useful information, and secondly, at some point can entertain and distract from the negative information flow that prevails in our country, it increases your chances of getting out of the noisy data. People usually react to things that can bring benefit and give them something they did not have before. Moreover, they want to keep and do not lose what they have.
If you have a good content marketing strategy, target customers can easily systematize all the data about the company. They also become acquainted with the business better, understand the company attitude, and the product value for users.
Why does a startup need a content marketing strategy?
Digital marketing prevails in the modern world. For instance, it is convenient for people to shop online. Mostly, it has become apparent in the first lockdown due to the COVID-19 pandemic.
The product that enters the market must be introduced properly. Actually, it all starts before the project launch. We mean the creation of a site, pages on social networks, and successful brand positioning.
Every business needs logical planning. If, in general, we take into account different aspects - economic details, team, promotion, mentoring, etc., marketing should also have a strategy. Before you start making your strategy, try to answer the following questions:
● What is the idea of our product? What is its keyword?
● For whom is the product or service aimed?
● What will it change for the customer, and what pains can it solve?
● How to introduce this product? What is the "mood" of our presentation?
● How can we attract potential customers to our business?
● What do we focus on more - visual or textual aids?

I agree that the answers to these questions can be quite "humanitarian". I advise not to rush to consult with experts or read professional literature because it is the next stage. At first, give yourself (but honestly) answers to these questions. If you don't have the answers, try to find a solution with the team. The content strategy can be diverse. Even if you do not plan something but aim to adjust to any newsbreaks or events, quickly react and create advice or life hacks, which relate to what people discuss on social networks at the moment - it is also a strategy. After all, the content strategy doesn't always mean you have a calendar with a plan to write, for example, about cats on Mondays, young California startups on Wednesdays, and something else on Fridays. It can definitely be a mixture of one with another. When it comes to startups or any business in general, the content is a perfect opportunity to come into the spotlight to target audience and potential customers in a much cheaper way than spending money on advertising.
Target audience
Before building a content marketing strategy, you should understand what your target audience is. Formally, it is a specific group of users who would like to receive your product and service. Focus your advertising campaigns exactly on these people. The target audience comprises some indicators that you must consider: age, gender, income, etc. For this purpose, we recommend you make a portrait of the user.

How to create a user portrait?
Let's imagine that your entire target audience is one specific person. Describe him/her in detail.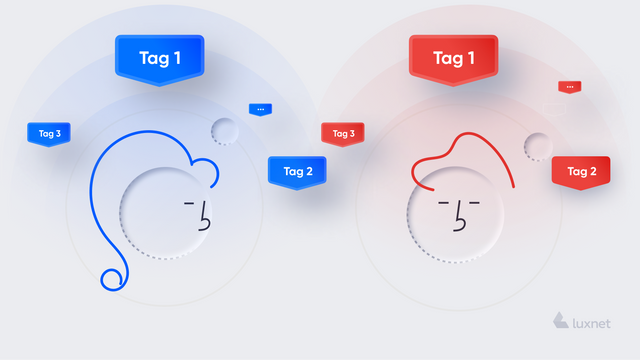 How does this person look? Is he/she young or older (or perhaps very young)? Is this person a man or a woman? What does he or she do? Where does he/she work? How does he/she spend their free time? How much does this person earn? What does he/she spend the money on? Does he/she have many friends? Does he/she prefer one but a faithful and old friend?
You need to know as much about this imaginary user, created on the basis of the needs, desires and challenges of the target audience as you do about a relative or close friend. This knowledge will come in handy when creating a content marketing strategy. For example, you offer services to executives of a big business. It is unlikely that the Friday story on Instagram with the heading "Hey-ho! It's time to drink cider at the bar in the pub!" will be appropriate here. Let's make that scenario vice versa: you provide a service for young people who have not graduated from university yet, and they are your target audience. And here - a boom! On Facebook, you repost a sophisticated article with an analysis of global stock trading. Will it be interesting for young people? - I suppose no.
When you make a portrait of a user, he/she becomes your friend. You know what words are worth choosing, how to make this person interested and bring a smile to his/her face (Do you still remember? The entertainment part is also important!). It's like pleasing a friend with a gift. The more you know about your friend, the more convinced you are that he/she will like your present, which will evoke only positive emotions.
Tentatively speaking, you can compare your product to this gift. So, your customer is your friend who needs positive emotions (and not just on his/her day of birth).
Words, headlines, comparisons, hyperboles, emotions and other "fantastic beasts" of copywriting
When you build a content marketing strategy, words play a significant role. Rest assured: even the most attractive photos will only be a part of a successful product description. Ideally, you need only one paragraph of an appropriate representation.
Therefore, it is hard to overstate the role of the team working on the project. Make sure that your team has a person who knows how marketing and advertising work. Additionally, you need a person who writes well. Then, this writer will be able to describe all the main messages and values of your young company appropriately.
Moreover, it is important not to forget about your case studies. A good description of the completed project, its challenges and decisions, is literally an offer to cooperate with a potential customer.
No one can tell better about your startup than the owner and team member. But that doesn't mean they can express all their thoughts in clear words, videos or anything else. If we talk about the amount of time we need to spend on it, there is probably no gold standard. There may be a lot of unnecessary content, and there may be a few posts per month, but they can be very helpful.
What is worth considering when building a market content strategy?
Okay, you've analyzed your business, and now it's time to make the budget of your content. Primarily it includes the salaries of a marketing specialist and copywriter, but not all startups can afford these positions at first. Some people prefer to "try this alone" in the beginning. You can also use the services of freelancers who can create several opening episodes for you. It will undoubtedly cost less than hiring experts into the staff.
Here, for example, we partially wrote where to search for a contractor for projects. On the platforms for finding remote professionals, you can read their resumes, reviews and price policy.
In addition, consider the following points when you plan your budget:
domain, hosting and security of your site;
graphic design and format of your platform;
content that is divided into sections logically.
When thinking about the marketing of your product, apply many resources to design: it should be attractive and user-friendly in terms of UX / UI, as well as branded according to the key colours, shapes, fonts, etc. of the project.
Furthermore, do not forget about the home page of the platform. It will help to "sell" at first sight and turn a potential customer into a regular one (additionally, it will bring aesthetic enjoyment).
Sometimes a young business tries skimping to save money, and it is logical and fair. A small company attempting to get on its feet cannot waste money and give presents to all employees for New Year, Christmas, Birthdays and International Cosmonautics Day.
However, try not to economize on marketing: the expert will help to correctly describe the importance of the product for readers, raise interest in your startup and engage future users.
Do you remember the episode from the famous movie "The Wolf of Wall Street", in which the main character asks to sell him a pen? One of the chief tasks of a marketing expert is to clearly and qualitatively describe your niche and the needs of users that your business cover. Such words as "good", "very nice", "you will like it!" will not work if you do not describe the goals, needs, and pains to fill any gaps in the life of your user.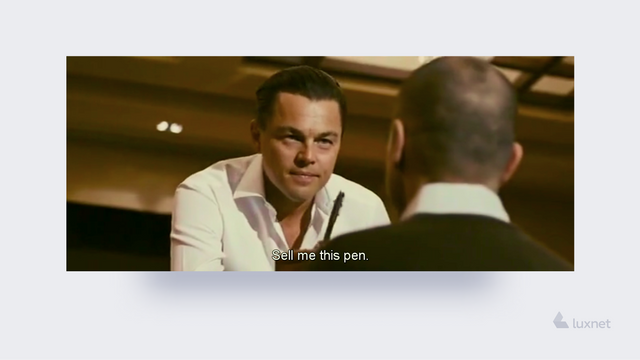 How to build a content marketing strategy for your business?
We have prepared some tips on how to start creating a content marketing strategy for your startup. They will help structure it and optimize it for your business needs.
1. Define your goal. For your strategy to work, you must first define the marketing mission of your business. To do this, answer a number of questions: What visual and textual aids does our product need? What is our target audience? Where can we find the customers - on social networks, on websites, in the media? What experiences can we share with our users?
2. Create a user portrait. We wrote about this issue in previous sections. At this step, you should take into account the age, demographics, geography, cultural characteristics and preferences of your audience. Build a content strategy for this particular person. You must know how to interest this person.
3. Choose the distribution channels. Your site is only one way to share information. For this purpose, you can use social networks as well. To do this, companies often apply LinkedIn, Twitter, Facebook and other networks.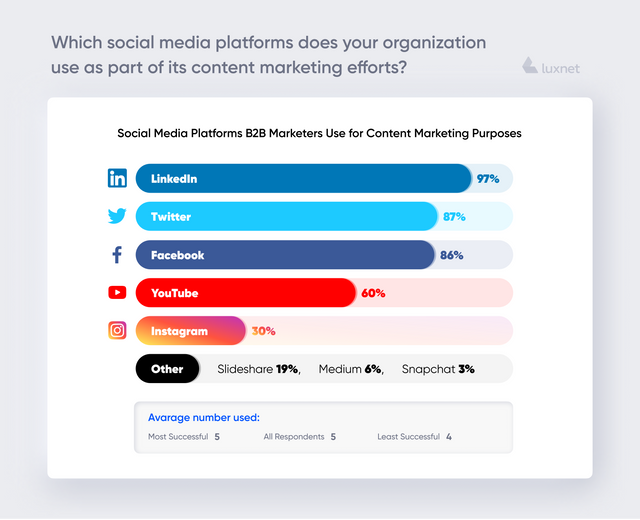 Other tips that can help you create a good content strategy
1. Systematize. Apparently, you don't need 15 posts a day - that will be too much. However, determine for yourself how much content you plan to write each week or month. This point is necessary to avoid such situations, for example, when a potential user comes to your page in November and your last post is in December of the previous year. It might seem as if someone has "died" or pulled the plug on the project. If you run social media pages, remember that you need to maintain and update them all the time.
2. Give feedback. Here you can apply Call to Action, ask customers to leave their contacts, call them back or write after a while. You can also integrate bots for your company - for example, to answer frequently asked questions. One more option is to create an email newsletter where you will inform about new products or other offers.
3. Follow the trends. What does it mean? Let's have a look at an illustrative example. Maybe, today is International Cat Day. Well, a Grumpy Cat is cute, isn't it? This fluffy pet has 2 million 300 thousand subscribers on social networks. Why not congratulate them and other cats on a happy holiday? This example shows that for your page, you can use all the information you can find. The main thing is to present or twist it correctly. Maybe someone has already won an Oscar for the best film or supercool actor. Maybe your colleagues can share a list of favourite movies; designers can tell about aesthetic paintings; developers - about cinema, where innovative technologies are "played off" successfully. Link or connect your posts to news stories and trends, and so interact with users.
A Simple template of a marketing plan
Do you remember the following phrase: "A solid plan, Walter, is like a Swiss watch ...", which is from the movie "The Great Lebowski"?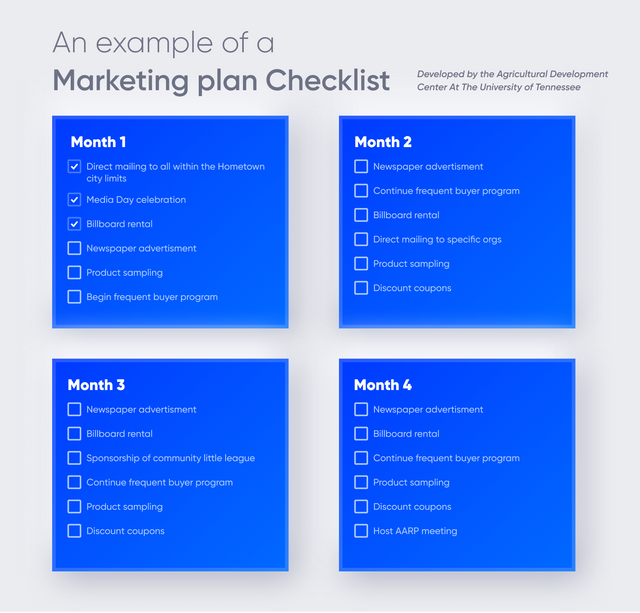 You need a reliable plan too. You can specify a few points that you have to do each month to grow the company and content of your page. There is an example above of how you can optimize your goals.
TL;DR
Marketing is an essential part of your business. If you want to present your company successfully in the arena you are trying to enter, a quality site and well-chosen words on social networks will be helpful. Therefore, you can attract a larger target audience and turn potential customers into regular ones.
Content marketing strategy allows you not only to advertise and present your product or service. It also tells the general public about the values, traditions and employees of your company. These kinds of info give the pages and site a sense of humanity, in other words: people - for people.
You can choose the type of content strategy creation or promotion that is suitable for you in terms of your aims and budget. You don't always need a large team of content makers. Sometimes one person is enough to document your ideas, goals and development in well-chosen words.